Hastings Bath Collection Tuby Console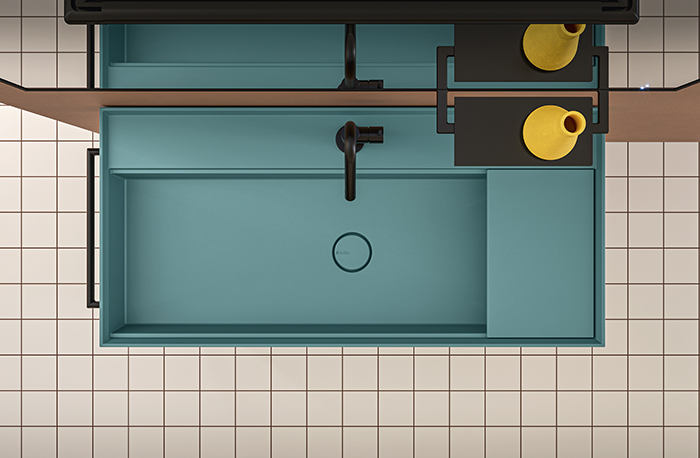 September 6, 2023
Hastings Bath Collection has announced the launch of Tuby, a new console collection that brings a fresh take to bathroom console design and functionality. Its slim and minimalist matte black anodized aluminum frame defines the series. 
The new Hastings collection comes in a range of concepts, styles, depths and layouts. Offering 44 solid-surface colors, the Tuby collection creates an individualized solution that speaks to any design theme seamlessly. 
Tuby Telaio allows for an additional level of customization with options for vessel sinks and textured matte solid surfaces. Telaio can be made with a smooth matte finish but also comes in three Pietrablu matte textures. Juta is a canvas fabric-like texture, while Well mimics slate, and Trendy channels a bush-hammer feel. Textured finishes are also an option for the exterior of Telaio's selection of vessel sinks, the interiors of which are always smooth matte. 
Additionally, four styles of vessel sinks are available. The Ciotola range includes round, oval and rectangular-shaped vessels that can feature Pietrablu textures on the vessel exterior with the interior remaining a smooth matte. 
A square-shaped vessel sink comes in smooth matte only. Vessel sinks feature color-matched drain covers; however, the sink color can be chosen independently of the console color, further amplifying the possibilities for customization. 
Telaio is also available as an integrated sink console with a matte finish or with a Pietrablu textured exterior.
Providing extra storage, Tuby Anime (pictured) features a shelf that slides horizontally over the integrated washbasin, creating a flexible, adjustable storage surface. The sliding shelf, lower shelf and drain cover are color matched to the wash basin and are available in 44 colors from neutral to vibrant that contrast the matte black metal frame. 
For a stylish powder room, Tuby Anime Hand Wash is a great option with its slimmer and compact design. The offset side deck can function as a faucet deck or a dedicated storage area. Additionally, a matte black anodized aluminum towel rack can be added to the front of the console's design. 
Harkening to the same Tuby Anime sliding shelf, the Tuby Anime Ring design is available in a wall-mount solution. The basin rests on a matte black metal frame called Ring. The basin itself is available in all 44 matte colors and has coordinating matte black towel rack options.