Casalgrande Padana Aquatio Collection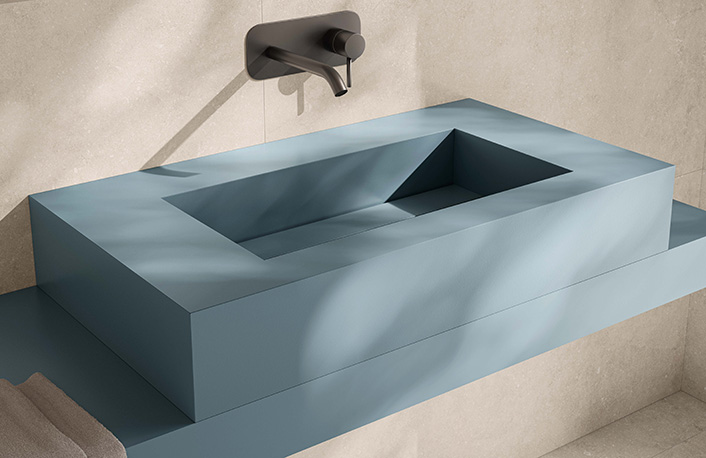 November 3, 2023
Casalgrande Padana's bathroom furnishings from the new Aquatio range are treated with Bios Antibacterial, a silver-based technology that helps eliminate 99% of bacteria from the tiles' surfaces while preventing stains and odors. Aquatio furnishings are obtained by fabricating and assembling porcelain stoneware slabs from any of Casalgrande Padana's collections, available in various colors, patterns and finishes. 
The collection stands out for its clean lines, essential design and customizable dimensions, allowing architects and designers to create bathroom furnishings tailored to their needs. This way, Casalgrande Padana porcelain stoneware tiles become the true star of the bathroom. The perfect combination of design and innovation emerges from the water, creating stunning textures, iridescent tones, harmonious transparencies, and sophisticated veining and color variations.
With this collection, washbasins, shower trays and shelves can match the bathroom floors and walls for a seamless, cohesive look or create striking color and pattern contrasts. Whatever the case, Casalgrande Padana porcelain stoneware's superior durability, wear resistance and ease of cleaning are always guaranteed.  
All products from the Aquatio range – which already includes a wide array of models and versions – can be made from any of the Casalgrande Padana's large-format slabs with custom designs and dimensions to meet any site-specific need. 
Aquatio's three main products have a structure consisting of rigid panels made of extruded polystyrene assembled with structural silicone or water-repellent  materials. The washbasins also have a steel tray for additional rigidity. All sides are coated with a hardening layer and a non-woven fabric that allows the adhesive to adhere to the porcelain stoneware slabs.
Porcelain stoneware stands out for its versatility, durability, and excellent technical features. In addition, its wide range of formats and textures has expanded its use beyond floors and walls and turned it into an essential material for interior design. Aquatio marble-, stone-, concrete– and metal-effect bathroom furnishings go with any interior design style and Casalgrande Padana tile collection, allowing you to mix and match colors and textures or create a cohesive, seamless look and a visual continuity with the floors and walls.
Casalgrande Padana's collections are made solely with natural raw materials, making them fully recyclable and environmentally friendly. In addition, the company's production process has always been about meeting ever-higher quality standards through applied research and state-of-the-art technology while adhering to the most stringent environmental standards. Cutting-edge anti-pollution equipment allows for recycling and reusing all production components.
Photo credit: Casalgrande Padana