MAC Faucets FA3400 Series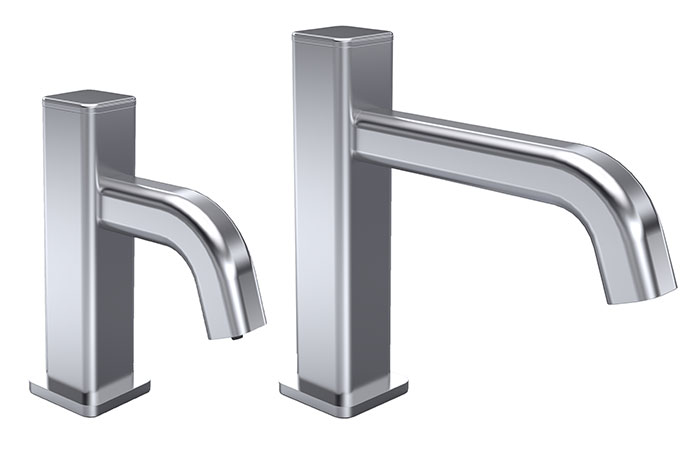 November 21, 2023
MAC Faucets introduces the latest addition to its line of touchless faucets, the FA3400 series. The series comprises models that combine solid design with unparalleled engineering and technology to provide specifiers of bathroom projects with the best options. 
The FA3400 automatic faucets feature a square design in both 6- and 8-in. heights to accommodate different styles and functionality, one model for classic sinks and one for vessel sinks. In addition, both faucets are available with a long spout reach to deliver water closer to the users' hands. 
Crafting square faucets is highly challenging from an engineering and manufacturing perspective. MAC Faucets uses C260 tubular brass as the primary material for crafting both the FA3400 and the FA3200 series touchless faucets. This variety of brass features a remarkably low lead content of just 0.07%, which places it significantly below the U.S. legal limit of 0.25%. 
The faucet's delivery system guides the water through a stainless-steel hose, preventing direct contact with the brass material to preserve the quality of the water. This innovative design not only meets stringent quality standards but also reduces the carbon footprint compared to traditional casting methods. C260 brass is known for its environmental qualities: It is recyclable and more sustainable than the brass commonly used in traditional plumbing products because of its higher copper content of nearly 70% versus the standard 60%. 
What sets the FA3400 series apart is its extraordinary engineering, as well as its extensive array of finish options. The faucets are available in more than 20 finishes to meet the needs of any project specification. Matching soap dispensers are also available to complete the offering. The existing FA3200 offers the same products in a tubular design. 
MAC Faucets has a rich history of delivering top-tier faucet solutions, and the FA3400 automatic faucet series is another element that perfectly pairs with the rest of the brand's offerings.
Photo credit: MAC Faucets