Simas 8.1 Collection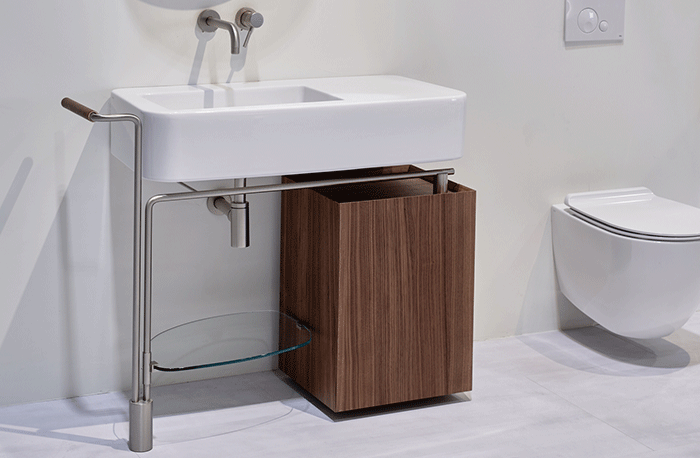 November 6, 2023
Simas has introduced the 8.1 Collection designed by architect and  designer Giancarlo Angelelli. An extra-clear glass, 8 mm thick, serving the function of a shelf and irregularly shaped, is supported by two small steel clamps — the first fixed in one of the legs of the structure, the other on the side of the  cabinet at the only point of tangency between this and the curved line of the glass. Surmounting the entire composition is the ceramic washbasin with high edges   and rounded shapes.
The washbasin is available  in three sizes, in stark contrast to the prismatic purity of the underlying  wooden volume, in Canaletto walnut, natural oak and smoked oak finishes, whose aesthetic is entrusted exclusively to the vertical grain of the material and the  refined detail of the door opening. The same wood essence is used for the cylindrical cover on the part of the structure that functions as the towel holder. 
A mirror with a diameter of 70 cm conceals a 10-cm deep storage compartment. Illuminating the scene of a  design in which the random meeting of parts is resolved with meticulous research into detail is a small metal  'medallion' that reflects the light from the light source kept conveniently hidden behind the mirror. The 8.1 Collection from Simas is offered in the Simas color range of 19 matte and glossy finishes.