Simas HOP Washbasin Collection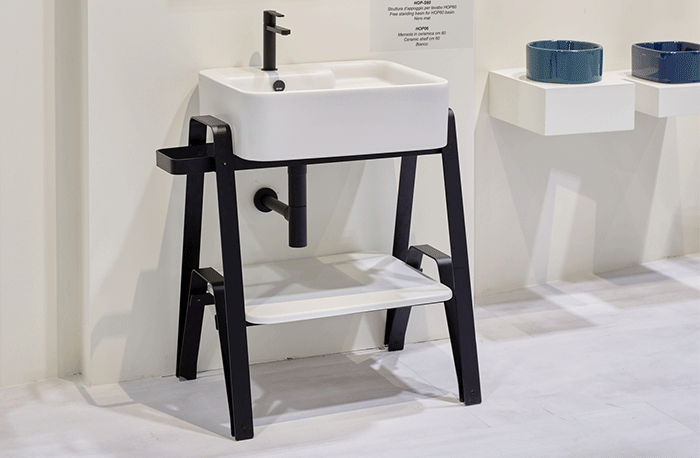 October 24, 2023
HOP, the new washbasin collection by Simas Design Team, is a real jump into design. It is in fact the jump in height between the tap and countertop that is the key element inspiring the concept of this young and cheerful collection. The difference in height creates a "container slot," a functional base protected by the high edge of the washbasin, ideal for toiletries. 
Aesthetically, the washbasin is created from a parallelepiped, the outer belt of which is decidedly rigid, with straight walls and rounded corners, while on the inside the surfaces soften thanks to a greater radius. The edge is deliberately not too thin, in order to carve out and enlarge the interior space. The end result is a greater plasticity of form, which accentuates the three dimensionality of space. 
The HOP collection from Simas consists of three washbasins, where only the length of the inner basin changes, while the countertop maintains the same dimensions.  
The washbasins in the HOP collection can be wall hung or freestanding, on a shelf or on a frame. The HOP ceramic washbasin collection is available in the satin finishes matt anthracite, white, black, canvas, cement, myrtle, moka, plum, sand, periwinkle and navy; in the glossy colors caramel, capri, mint, narcissus, ruby and graphite; in addition to the glossy black and white — 19 colors in total. HOP is equipped with  a washbasin-holding structure, which can be assembled and modular, in which the combination of the  horizontal rods makes it possible to reach all three sizes of washbasins and also serves as a towel rail. The  structure is made of black, powder-coated metal, with a comfortable, wide ceramic shelf. The profile of the structure elements is also taken up in the frame of a mirror with a matching integrated shelf, which, with a  common stylistic language, completes the HOP collection.