Duka Libero 3000 Colour Up Your Life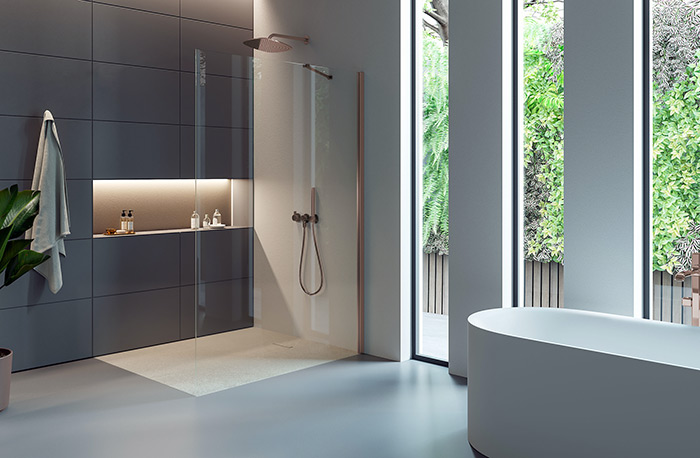 March 24, 2023
Following Pura 5000 ColourArt, Natura 4000 and Libero 4000 Colour Up Your Life, Duka continues to extend its range of colored products with Libero 3000. 
Libero 3000, the subtle and noble walk-in solution, is now also available in the new finishes copper pearl, brass pearl and black pearl. The vertical profile and the support bar evolve into decorative elements in the bathroom ambience. The wall support guarantees maximum stability and safety of the glass while respecting the clean, minimalist design of the shower enclosure. It can be installed at an angle of 30 degrees for a discrete appearance or at an angle of 90 degrees for a more linear look.
The enclosure is made of 6 or 8mm tempered safety glass, is available in heights up to 205cm and widths up to 140cm. It can also be installed in special situations or in situations where cutouts are necessary, for example when in contact with other architectural obstacles or in presence of a slope roof.
By adding Colour Up Your Life to the Libero 3000 series, all systems are now covered by the new pearl colors. With their various opening systems, unique profile colors, glass surfaces and other structural components, Duka's Natura 4000, Libero 4000 and Libero 3000 Colour Up Your Life shower enclosures allow a varied design for the bathroom or wellness area.