Empava Walk-in Whirlpool Bathtub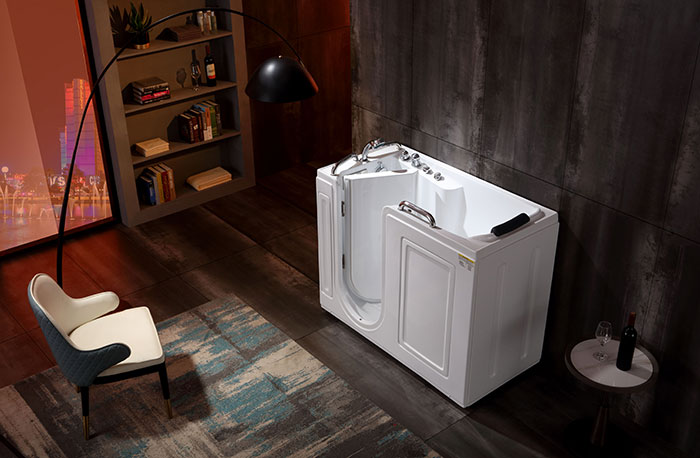 August 13, 2023
Empava, designer and manufacturer of kitchen and bath products, introduces the new Walk-in Whirlpool Bathtub. The bathtub was designed with a compact, 52.5-in. length to seamlessly integrate into any bathroom space, while boasting a larger than average soaking depth and entry door for maximum comfort. With several safety features incorporated throughout, including easy-grip handrails for added stability, an integrated seating area and an ultra-low, 4-in. step-in threshold, the ADA compliant tub provides a piece of mind for individuals with limited mobility.
The  Walk-in Whirlpool Bathtub has several safety features in place for accessibility, including three easy-grip handrails, a textured slip-resistant floor and the ultra-low threshold. Powerful 1 HP water pumps soothe sore muscles and reduce stress through 10 strategically placed water jets, for serene, spa-like comfort at home.
The spacious interior accommodates 94-gallons of water and holds up to 440 pounds, with a larger than average 32-in. depth and extra-wide door opening, allowing bathers to stretch out and soak comfortably. It allows users to comfortably bathe in a seated position with ease, using the lengthy 47-in. stainless-steel retractable hose and removable headrest for added comfort, on the integrated seat deep enough to fully submerge an average sized adult up to the shoulders.
Designed for comfort and style, the new Empava bathtub's high-quality acrylic fiberglass makeup and durable stain- and scratch-resistant high-gloss surface allow it to maintain its aesthetic appeal through many uses, while its heavily insulated double walls ensure water remains at the desired temperature for the entirety of the bath.
Once bathing concludes, the rapid draining system empties the tub in less than three minutes, avoiding overflow and decreasing wait time. Upgrading any bathroom is a breeze, with pre-drilled holes and pre-installed accessories for a seamless installation process.