Wolf Induction Range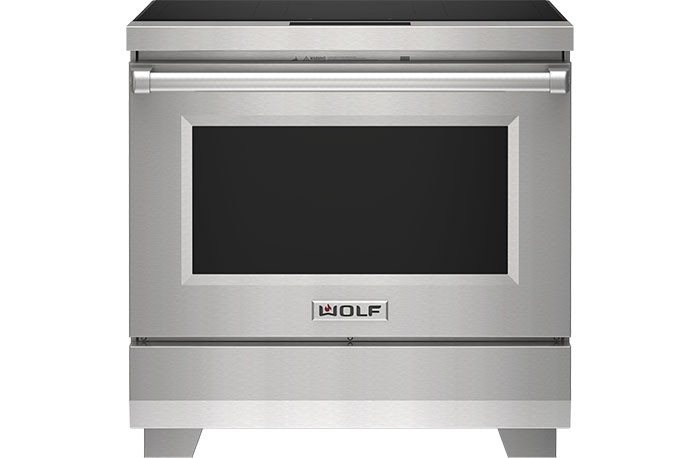 August 14, 2023
The Wolf Induction Range offers a modern upgrade to the kitchen with refined, clean lines and a completely integrated touch-control panel. The scratch-resistant, ceramic glass induction surface provides consistent, precise control and nearly instantaneous temperature adjustment— perfect for cooking pasta in a pinch or creating a more delicious sear on a steak. The newly expanded product line includes both sleek transitional and bold professional design styles, combining the best of Wolf's induction technology and signature dual convection oven in one powerful appliance that complements any kitchen style.
The induction surface generates a magnetic field that induces heat directly in the pan, resulting in efficient, even heat distribution and astonishing speed. The Bridge function joins two induction zones into one large area, enabling use of an induction-capable griddle, open roaster or fish poacher. Leverage Boost Mode quickly increases heat by zone for lightning-fast boils. 
Wolf's Dual VertiFlow convection system provides reliable, even heat, reduces hot and cold spots, and enables consistent multi-rack cooking. Ten cooking modes developed by Wolf chefs help maximize the performance of the oven, including Gourmet Mode, which takes the guesswork out of cooking with nearly 50 preset menu items. The full-color touchscreen is intuitive, easy to read, and locks for safety and cleaning. Wi-Fi enabled features allow users to remotely preheat, select modes, adjust oven temperatures and set alerts from any mobile device.
Photo courtesy of Sub-Zero, Wolf, and Cove