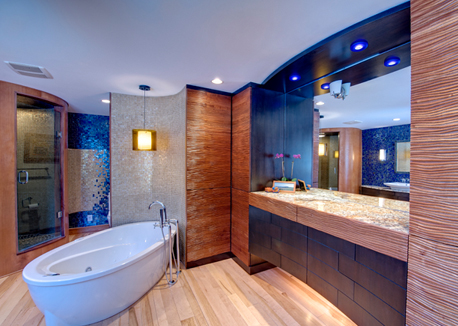 January 12, 2011
Designer David Stimmel, of Stimmel Consulting Group, and his wife, a child therapist, have seen more than their fair share of the interior of other people's houses. Both work in professions that require they conduct consultations in their clients' homes "all day long," said Stimmel. So when it came time to renovate their own abode, the couple knew they wanted the result to be unlike any other they had ever seen or visited, which was no easy feat. Adding to Stimmel's challenge was a modest budget for the entire project, which encompassed a Merit-award-winning kitchen (featured in the April 2010 issue of K+BB), two staircases, new flooring on the entire first floor, a variety of other improvements and this 150-sq.-ft. master bathroom, which would provide the private sanctuary he and his wife desired.
As with the other rooms in the house, Stimmel executed the bathroom remodel by employing creativity in not only his use of materials, but also their sourcing to keep costs down. The floor, for example, which is made of birdseye maple, came directly from a wood mill. "I found out who they sell the wood to and ended up cutting a deal with them and their other suppliers," Stimmel said. "Everyone was happy because the mill still sold large amounts of wood, and I got a $12-per-sq-ft. floor for $3 per sq. ft. If I hadn't bought the wood, it might either have been burned or chopped up into smaller pieces for samples."
When asked about the practicality of having wood flooring in the bathroom, Stimmel responded that he has done so in all of his own homes. However, it's not for everyone, he added. "It has to be someone who will wipe it down when they step out of the shower or tub and see water on the floor," he said. Nevertheless, to protect the wood against moisture absorption, each plank is finished on the top and the bottom.
Other budget-friendly elements abound in Stimmel's bath. In the makeup area, ebony-stained cherry cabinetry is topped with a granite slab that he salvaged from one of his kitchen projects and had refabricated. "It's so beautiful, why would I want to throw it away?" he asked. For the vanity sink, a wall-mounted faucet was purchased from a showroom that had changed its displays and no longer needed it.
Behind the tub and inside the cylindrical shower, glass tiles—remnants from a large hospitality project in Atlantic City, NJ, that might have otherwise ended up in a dumpster—shimmer in gold. "Sometimes these commercial jobs have a couple of hundred square feet of tile left over that just get thrown away," Stimmel said. In this case, "I knew the tile-setters and bought the tiles through them." For continuity, the gold tiles articulate all of the bathroom's arced vertical surfaces, which in turn are stunningly offset by blue iridescent mosaics.
The bathroom incorporates various curved forms to create an organic feel and promote "a natural flow." Located on opposite walls, the vanity and makeup cabinets echo one another with their concave and convex shapes, as well as their finger-jointed door design. Below, mounted on their undersides and operated on motion sensors, striplights bathe the floor in a soft glow at night. Further ensuring safety after dark, light fixtures and sensors are also tucked under a 4-ft.-high radiused shelf unit situated near the toilet area. Together they illuminate the floor and uplight a vase displayed on the glass shelf.
Of course, lending the master bath much of its character is a series of carved mahogany panels that frame the makeup area and adorn closet doors. According to Stimmel, who conceived of the pattern during an early morning walk on the beach, its undulating lines mimic those left in the sand by waves. An architectural woodcarving manufacturer worked with him to develop the panels, but then took it one step further. "If you look at the wave pattern, it looks random," he said. "But if you look at the drawer fronts, it is continuous from one drawer to the next. I can't take credit for that."
There is, however, much for which he can. Open, luxurious yet reasonably budget-friendly in its making, Stimmel's master bath, like his kitchen, demonstrates that, with a little ingenious thinking, great talent and vision can always find a way to shine.
Click here for images of the project.
SOURCES
Designer: David Stimmel—Stimmel Consulting Group, Ambler, PA; Manufacturers:
Cabinetry: Rittenhouse;
Tile: Oceanside Glasstile;
Tub: Acryline USA;
Tub filler: Schön;
Shower: Hansgrohe;
Wood paneling: Enkeboll;
Flooring: Jones Hardwood Floors;
Lighting: Lightolier (undercabinet), Lutron (controls) Photography: © Charles Meacham