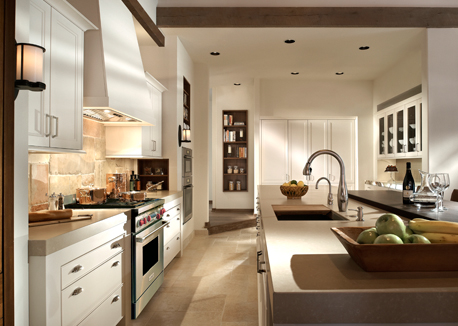 May 9, 2011
A 20-year-old kitchen would seem a prime candidate for a complete overhaul. And that was certainly the intent when a couple in Florida hired designer Joan DesCombes, CKD, of Joan DesCombes Kitchen Design, to give their kitchen a much-needed update. There was, however, one hiccup: "The only changes they wanted to make were cosmetic," she noted. "They had become so used to their kitchen and where everything was located" that the principal challenge in the project became persuading her clients to "let go." This she did—gently and skillfully—and the result is a light and airy environment with clean, classic good looks and a solid aptitude for cooking, entertaining and modern living.
In function, the new kitchen improves considerably upon its predecessor, which "really wasn't set up the way the wife needed it to be," observed DesCombes. Disjointed and inefficient, its layout lacked the large work surfaces required to cook, bake, serve and plate with ease yet comprised amenities that either saw infrequent use, such as a modest home office area and its triangular desk, or were just unattractive. In addition, the existing cabinets, though abundant, were equipped with outdated storage accessories and, to boot, had been painted green, which did little to embrace and enhance the room's architecture.
The remodel, by contrast, lends a sense of unity to the space, as well as an understated elegance. It incorporates a series of niches to visually organize the kitchen's various functions and employs a palette of soft, earthy finishes to complement the wife's fair coloring. "People should look good in their kitchens," said DesCombes, a former executive in the fashion and cosmetics industry. "Because the wife is blonde and slender, I stayed with an overall palette of soft, light colors with dark, dramatic accents." Similarly, ornamentation is kept to a minimum, and the aesthetic is spare without being stark.
In the cooking area, for example, where heavy upper cabinets once dominated and landing room was scarce, twin wall units in a warm-white matte-lacquered finish now flank a white hood and are set against a backsplash of pale gold Jerusalem stone to create a simple yet effective focal point. All are neatly contained within a shallow niche that is articulated on top by a soffit and a dark walnut beam. Both were added "to provide a visual stopping point for the hood," said DesCombes, and help integrate an existing 15-ft.-high wood-paneled ceiling that previously seemed disconnected from the rest of the kitchen. On either side of the range, counter space is plentiful, while tucked into the sides of the niche are walnut shelves for storing spices and condiments.
To the left of the cooking station, an Asian-inspired armoire, recessed into the wall and also formed of walnut wood, conceals a refrigerator and a freezer. A request from the wife, its inclusion necessitated a bathroom on the opposite side of the wall be replumbed and reconfigured to accommodate its depth, which, noted DesCombes, helped ease the clients into allowing more changes. Anchoring the opposite end of the range area, another niche, lined in walnut and outfitted with shelves, sits above a pair of wall ovens to strike a kind of visual balance.
An oversized island allows the husband, as well as guests, to sit and socialize with the wife during meal preparation. Topped with a matte composite stone and packed with such conveniences as an array of storage compartments and accessories, as well as a sink, a faucet and a dishwasher, it extends some 20 ft. in length and includes an 8-ft.-long and 5-in.-thick notched-in wenge wood slab that serves as a casual eating counter. Because the clients wanted to hold onto their old bar chairs, each was stained, cut and refurbished with caramel-colored leather upholstery.
Although the new kitchen retains roughly the same footprint as the old, it boasts a more intimate scale while boosting spatial and traffic flow. This was accomplished by relegating staging and additional storage to a tall cabinet and a new buffet/bar station, both of which are located off to one side of the island. Here, food can be laid out on an LED-illuminated onyx countertop without interfering with cooking, and undercounter refrigerator/freezer/ice-maker drawers ready drinks for serving. Glass inserts in the upper cabinets show off a dark walnut interior, and above, a niche conceals additional LED lighting.
The unused desk has been exchanged for a simpler device—an embedded walnut wood panel with rails for hanging a clock, pots for growing herbs, a message board and an apron—and a catchall corkboard is now a bookshelf. An array of almost-new appliances the couple was loath to part with now furnish a catering kitchen that was also renovated.
Letting go is not always easy, but in this case, DesCombes' efforts and vision have shown that doing so can lead to better things.
Sources
Designer: Joan DesCombes, CKD—Joan DesCombes Kitchen Design
Manufacturers: Cabinetry: SieMatic;
Refrigeration: Sub-Zero;
Range: Wolf;
Ovens and dishwasher: Miele;
Sink and faucet: Kohler
Photography: © Stephen Allen