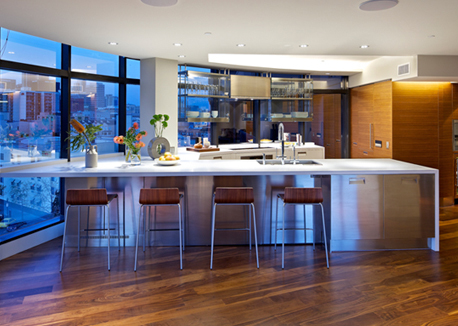 October 18, 2011
Whether on a mega ocean liner or a 40-ft. yacht, the kitchen—or galley—of any floating vessel makes the most efficient use of limited space, taking advantage of every nook and cranny and capitalizing on both the vertical and horizontal area available. Designer Lisa Wilson-Wirth, CKD, knows a thing or two about maximizing efficiency. As principal of Wilson-Wirth Design, it's her job to ensure the kitchens she designs similarly take full advantage of their footprint.
A completely redesigned kitchen is at the heart of the total makeover given to this condo unit in San Diego, CA, which features magnificent city and bay views. Once disjointed and constrained, the unit's new open floor plan integrates the living space with the kitchen, making it the hub for this active urban family's everyday activities.
"The space is within one of the building's 'bubble' units," Wilson-Wirth said. "It sits within a southwest-facing circular shaped tower." In addition to designing around a tricky round wedge, she was also challenged to pay homage to yacht design. "The husband is an executive in the shipbuilding industry, and design elements that reference yacht design were embraced," she noted.
Christian Rice, AIA, of Christian Rice Architects, reconfigured the entire layout to create one social great room. He relocated the kitchen to an area formerly occupied by a bedroom, perfectly situating the main living spaces to experience the natural light and panoramic views. Since there was very little full-height wall space, as well as a wall of floor-to-ceiling windows, and the overall kitchen footprint was a scant 160 sq. ft., Rice requested that Wilson-Wirth make the most of the kitchen layout with a modified galley design.
"I tailored white matte lacquer cabinets to meet the family's specific storage and functional needs," she said. The cabinets feature a water-based, non-toxic finish for a perception of lightness and include pullout drawers and pantries, as well as custom storage inserts. WIlson-Wirth selected a recessed handle design to minimize obstruction.
To preserve the home's openness and panoramic views, while ensuring "proper storage," Wilson-Wirth designed a pair of transparent upper cabinets in glass and stainless steel that blend seamlessly into the city background and appear to float above an uninhibited workspace. Tucked between them is a low-profile stainless-steel recirculating visor hood, ideal for a high-rise residence. Throughout, the design incorporates energy-efficient appliances in sizes suitable for a smaller space, including an induction cooktop, a microwave drawer and a fully integrated refrigerator/freezer and dishwasher.
Separating the kitchen from the living area is a 15-ft. peninsula, which provides plenty of workspace, as well as an ideal area for entertaining, and is rich in seafaring references. Fabricated from manufactured quartz, its countertop and that of an adjacent work area converge at the curved glass windows, creating a triangular sail shape. At the other end, the peninsula terminates in a waterfall detail that maximizes the perception of space, and a fascia of stainless steel—a material commonly used in a ship's kitchen—softens the 15-ft. run and reflects the abundant natural light.
Equally common on the high seas is teak, which appears here in the form of a series of faceted, ecological panels that conceal the refrigerator and pantry unit, both of which are located along the kitchen's only full-height wall. As the wall turns the corner, the teak panels follow, transitioning into an efficient and elegant integrated bar featuring a wine refrigerator and pullout bar cabinet in bronzed metallic glass.
To add warmth and tie together all of the shipbuilding elements, walnut "deck" flooring was installed throughout the home. The combination of materials, applied to the strategic layout, gives this seafaring family the feeling of sailing the ocean blue even when they're standing firmly on land.
Click here for more images of this project
Sources
Designer: Lisa Wilson-Wirth, CKD—Wilson-Wirth Design, San Diego, CA
Additional design team members: Christian Rice, AIA, Christian Rice Architects (architect); Sharratt Construction; Cynthia Burke, Burke Lighting Design
Manufacturers:
Cabinetry: Arclinea San Diego;
Glass cabinets: Fabricated by Basile Studio;
Countertop fabrication: GMG Stone;
Induction cooktop, oven, ventilation hood and dishwasher: Miele;
Refrigerator/freezer and wine refrigerator: Sub-Zero;
Microwave drawer: Wolf;
Sink: Kohler;
Disposal: InSinkErator;
Water filtration: EverPure;
Faucet: Franke
Photography: © Brent Haywood/Haywood Photography