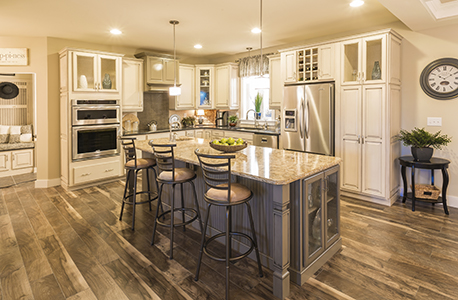 June 26, 2015
Everyone has a different take on transitional. With its blend of the new and the old, no wonder the style is so specific to client and personal taste.
"Transitional style incorporates many different textures and styles that are both traditional and contemporary," said Roxanne Kopelcheck, corporate designer at Hamlet, N.C.-based Ritz-Craft Custom Homes.
View this kitchen gallery here.
Sizing Up
The idea for this North Carolina kitchen design stems from hot-topic words in today's industry: a large island, a high resale value and an open layout. For the 10-ft.-long island, the team's greatest challenge was making the piece look like an integrated part of the kitchen instead of a utilitarian worktable.
"To overcome this, we added decorative legs, bead board and base trim to the island," said Kopelcheck, adding that glass-door end storage for special pieces, traditional cabinet end storage and a wine refrigerator also increased the island's functionality.
The client also insisted on the use of pendant lights over the island, giving the designers another challenge. To illuminate the island without obstructing the view, the team chose two modern, unobtrusive pendants with a soft look.
"Size and quantity were factored into the selection," said Kopelcheck. "The smaller pendants were chosen to provide the island with enough working light and yet have mood lighting."
On top of the island, light gold quartz creates a visual pop of interest without the maintenance of other stones. This contrasts with the simpler, dark quartz around the perimeter of the room, which highlights the movement in the island countertop.
Test of Time
Resale value starts with high-end aesthetics, but it is the ability to fit any owner's taste that truly increases value. That's where transitional style fits in best. Along with wood flooring, the design incorporates traditional touches like bead board on the back of the island and square, raised cabinets. The glass backsplash, straight, stainless steel hardware and the neutral palette bring in the contemporary, while the pendants, countertops and faucets fall into the transitional category – essentially covering all tastes in one kitchen.
The style particularly shows up in the cabinetry, where a square, raised, painted maple cabinet with black glazing softens the overall presentation. This light-colored cabinetry goes along with today's trends, as well as the layout of the rest of the home, but the glazing offers an innovative slant on the look.
"The painted cabinets combined with the black glazing and the wood tones in the flooring give the customer that transitional style that is the fresh look of today," said Kopelcheck.
The island cabinet color contrasts the lighter perimeter cabinets with a darker tone but the same glazing to coordinate the color scheme. This color tone also extends to the range hood for continuity.
"These two finishes mixed with the black glaze provided a base to pull the whole color palette together," said Kopelcheck.
Source Listing
Designer: Roxanne Kopelcheck and Chelsea Mohr, Ritz-Craft Custom Homes, with help from Dru Starook
Photographer: David Brown Photography
Appliances: KitchenAid
Backsplash: Dal-Tile Ceramic/Glass
Cabinets: Legacy Crafted
Countertops: Cambria Quartz
Faucets: Pfister
Flooring: Mannington Laminate
Hardware: Top Knobs
Lighting: Kichler
Sink: American Standard
Tiles: American Olean Glass